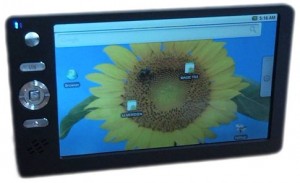 First I don't know why the device is being labelled a laptop by the developers when clearly this is a tablet. This device is called Sakshat and was developed by the Indian Institute of Science and Technology of higher education. I dug up the specifications and they are:
• Display: 7" colour LCD/TFT
• Keyboard: Built in
• RAM: 2GB
• Hard Drive: 32GB
• Connectivity: Wifi, USB 2.0 (2), Ethernet port.
• Operating System: Android
• Power: 2 watt
• Processor: Unknown
• Expandable Memory upto 8GB (SD Card)
• VGA Port (For connecting to Projector)
Nothing here to run home to your mother about but for $35 it is not bad compared to Ipad for about $499. The Ipad can do much more though as the Sakshat is for simpler computer tasks such as creating documents or browsing the web. It would be nice to have a spare device to go onto the web with at the fraction of the cost of other devices. When my laptop fell and screen broke I had no suitable device to use on the go! The laptop was old so a new screen would cost the same price as a new laptop. It would have been great to have the Sakshat waiting for me as my spare device.
I would buy the Sakshat just in case I needed it one day but not because it's a necessity. However this is not possible because there are no plans to sell the Sakshat to the public. This device is only available to students and education institutions in India. Plus the device doesn't cost $35 at full price because the Indian government are subsidizing the cost by 50%.
So it might be a few years before we see this type of cheap device in our stores or you never know they could change their mind and start selling for Christmas! That would be great but highly unlikely.
Don't let your head down just yet. A quick search on eBay has found similar devices for a similar cost.

Well it is kind of similar apart from having a delivery cost more than the device. If you buy this sort of device from china and it falls apart after 40 seconds and you ask for a refund and you get a reply saying: 没有退款,不退款不退款不退款!Don't blame me!
I Give it: