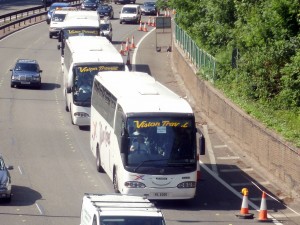 Portsmouth FC fans were terrified when the coach they were traveling in, on the way to watch their team play swerved across the lanes heading off the road. The driver attempted to swap seats with another driver while the coach was moving at 60mph because he wanted to use the on coach toilet.
When the main driver let go of the steering wheel in the attempt to change, the coach swayed across the road causing the passengers to fear for their lives and also causing luggage and gear to fall from the overhead racks. The other driver took control and the main driver went to the toilet as planned. The drivers were suspended immediately when they reached their destination and a relief driver drove the coach back.
I guess when you gota go, YOU GOTA go!
Here's a similar video of what occurred in the coach but in a much tighter space of a car:
I Give it: